Gas services
Gas Safety Certificates
Commercial Gas Safety Certificates Essex
Trades Team are seasoned Gas Safety professionals adept at helping businesses across Essex, Suffolk, and London achieve their Gas Safety Certificate. Our extensive commercial gas safety services afford you peace of mind with thorough inspections and quality assurance, ensuring your commercial premises meet health and safety regulations in alignment with Gas Safety Installation and Use Regulations.
By diligently mitigating risks such as carbon monoxide exposure, we help ensure your commercial property is a safe environment for both your employees and customers. Acquiring a Commercial Gas Certificate is a legal requirement for all commercial properties – ensure you're operating within the law by reaching out to the Trades Team for an exhaustive gas safety check.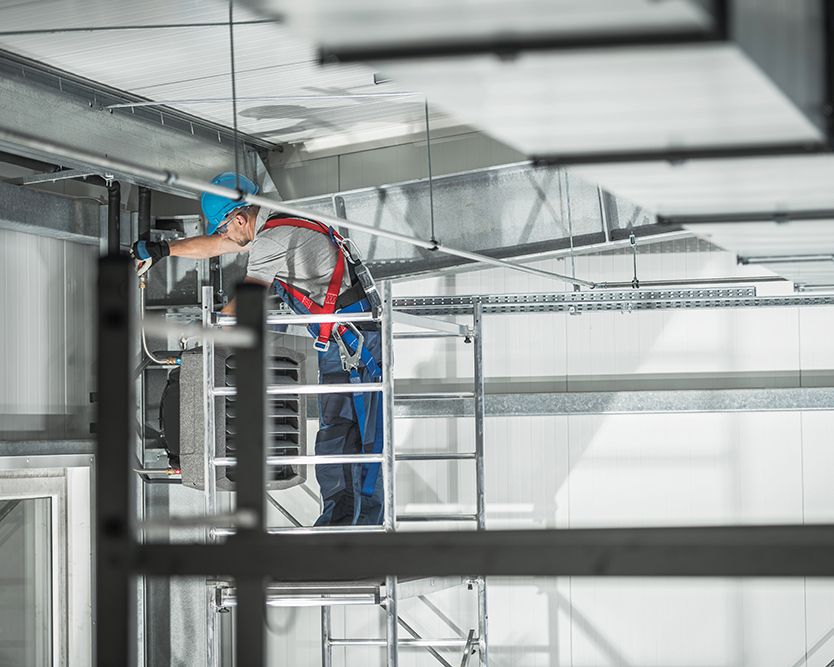 Simple, straightforward booking
Our Gas Safe Registered Engineers are at your service, ensuring that your business, whether you use a commercial boiler or other gas systems, stays operational and safe. Please engage with one of our experienced engineers today for a quick response.
Achieve your Gas Safety Certificate in just four effortless steps!
1
Book your Gas Safety Certification
Call us directly or use our online contact form to arrange your booking.
2
Attend your premises
Our Gas Safe Engineer will visit your premises at a time that's convenient for you.
3
Engineer Inspection
The Engineer will carry out several inspections. These include:
Air leakage tests

Visual Inspection

Pressure Tests

Functionality Tests

Operational Inspection

Extraction System Inspection
4
Certification
Upon completion, our Engineer will provide you with a 'Gas Safety Record Form', detailing each appliance checked. The record form also lists the inspection date, any detected problems or defects, and any actions required or taken to rectify them.
Landlord and Commercial Gas Safety Certificates
Trades Team is a family-oriented business; every team member is passionate about their work. Whether it's a commercial catering gas safety service or pipework testing, we assign the right person to get the job done correctly.
Our Gas Safe registered engineers offer annual gas safety inspections for commercial properties of all kinds. Whether you operate a commercial kitchen or need a landlord's gas safety certificate, we ensure your property and its gas supply are in safe, operational condition.
Quality workmanship is paramount. We assure you of the best service from our engineers. Every one of our gas heating engineers is fully qualified and understands how to offer customers the best service possible.
Frequently Asked Questions
We've answered some frequently asked questions about Gas Safety Certification.
What is a Gas Safety Certificate
A Gas Safety Certificate, also known as a Gas Safety Record form (CP12), is a document that shows a gas appliance or central heating system has been inspected and found safe to use. The certificate is issued by a Gas Safe registered engineer, a gas safety specialist trained to inspect and repair gas appliances.
Do I need a Gas Safety Certificate?
As a homeowner, having a Gas Safety Certificate for your gas appliances is not a legal requirement. However, it is vital to ensure that your gas appliances are safe to use, as gas leaks or other problems with gas appliances can be dangerous and potentially even deadly. Therefore, it is a good idea to have your gas appliances inspected regularly by a Gas Safe registered engineer to ensure that they operate safely.
If you are a landlord and rent out a property with gas appliances, it is a legal requirement to have a Gas Safety Certificate. Landlords must have the certificate renewed every 12 months and provide a copy of the certificate to their tenants. If you are a landlord and do not have a Gas Safety Certificate for your rental property, you could be breaking the law and may be subject to fines or other penalties.
How do I get a Gas Safety Certificate?
Gas Safety Certificates are issued by engineers registered to Gas Safe. Gas Safe engineers will attend your commercial property and conduct several inspections on your gas appliances. These inspections include:
Visual Inspection

Pressure Tests

Functionality Tests

Operational Inspection

Extraction System Inspection (where applicable)
How much will it cost?
The price of a Commercial Gas Safety Certificate will vary depending on the scale and scope of work. At PHS Trades Team, we always recommend scheduling an annual appliance check alongside maintenance. Consistent maintenance will help keep the cost down as you only pay for one visit to your premises.